Auto Accidents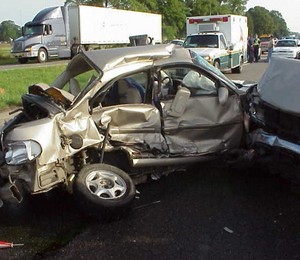 Advancements in modern technology and increased use of roadways and highways throughout Louisiana and the United States have led to a boom in vehicular travel in recent decades. Unfortunately, this has resulted in a drastic increase in vehicular accidents. Today, Auto accidents are the leading cause of injury in the United States. According to national statistics, there are approximately 17,000 reported auto accidents in the United States each day. Motor vehicle crashes are caused by a host of different factors– distracted or otherwise negligent drivers, inattentive operators, impaired drivers–between all types of vehicles at every possible speed. Serious injuries can result from any accident. Vindicating your rights to the fullest extent permitted by law depends on your seeking the advice of a skilled and experienced Lafayette auto accident attorney to help guide you through the process.
If you or a loved one has been involved in an accident, you may be entitled to recover compensation for 1) damage to your vehicle (either replacement or repairs); 2) medical bills related to the treatment of any and all injuries caused by the crash; 3) any and all wages lost because of the accident; 4) pain and suffering and permanent injury or disfigurement. For injuries sustained in a drunk driving accident, you may also be entitled to punitive damages.
In the days after a motor vehicle accident, you will most likely be contacted by an adjuster employed by the insurance company of the driver who caused the crash. When dealing with this adjuster it is crucial to remember that insurance companies are for-profit entities which seek to pay out claims quickly and for a fraction of the claim's worth. Thus the adjuster's purpose is simple: to seek information about you, your history, the accident and your injuries in order to apprise the company of your potential claim and to minimize its exposure. If you are contacted, do not give a recorded statement. Recorded statements are of no service to your claim.
Based in the Lafayette area, the auto accident attorneys at Broussard, David & Moroux are intimately familiar with the tactics of insurance companies and have extensive experience in every manner of auto accident including significant trial experience involving:
Big rigs, semis and 18-wheelers
Commercial trucks
Buses
Cars
SUVs
Motorcycles
Bicycle and pedestrian accident
Head-on crashes and rear-end collisions
Drunk drivers
Distracted drivers
Defective vehicles and components
Drivers distracted by texting, phones, GPS, computers, smart phones, etc.
This experience has afforded Broussard, David & Moroux's attorneys with the knowledge of injuries ranging from soft tissue and whiplash injuries to significant spinal and traumatic brain injuries. Serving victims in Lafayette and surrounding areas, the auto accident lawyers at Broussard, David & Moroux fully understand Louisiana's law governing auto accidents as well as those complex scientific and engineering principles necessary to determine both how an accident occurred and the manner in which injury arose.
If you or a loved one has suffered a serious injury in a car wreck, truck accident or another type of vehicle accident, call Broussard, David & Moroux to obtain the justice you deserve. For a free consultation with a Lafayette auto accident lawyer, call 337-233-2323