Wrongful Death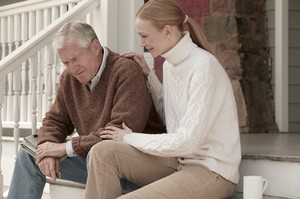 The tragic death of a loved one is a heart-wrenching and devastating experience. In addition to emotional pain from the sudden loss, surviving family members can also experience future financial hardship. With the assistance of our Lafayette wrongful death lawyers, injured family members can sue a negligent actor for damages when the actor's negligence caused a close family member's death.
Broussard, David & Moroux offers compassionate representation to family members of victims unjustly killed because of another person's failure to exercise reasonable care. The Louisiana Civil Code authorizes a broad array of family members to recover for the unjust, wrongful death of a family members including but not limited to: surviving spouses, children, parents, siblings, and grandparents of the deceased. If your loved one was killed because of another person's negligence, contact the wrongful death attorneys at the Lafayette firm of Broussard, David & Moroux to learn about your legal rights.
Wrongful death claims can arise out of many scenarios, including motor vehicle accidents, workplace accidents, medical malpractice, defective products, occupational diseases, defective medical devices, defective drugs and suicide. Whether a surviving family member can recover under a wrongful death theory of liability requires proof that the actor's failure to exercise reasonable care caused the death of the loved one. The surviving family members must also prove that they have suffered financial or emotional injury as a result of the accident. Though the plaintiff in wrongful death cases bears the burden of proof in certain elements of a wrongful death claim, the Louisiana Civil Code, the highest legal authority in the State of Louisiana, explicitly entitles surviving family members to recovery under a wrongful death theory of liability in the State of Louisiana.
The causation element of the wrongful death analysis can be difficult to prove. The negligent actor will often try to shift the blame on another party or on the victim himself. An experienced attorney can assist you in developing skilled theories of liability that hold all negligent parties responsible. If your family has suffered through the tragic death of one of its members due to the fault of another, you should contact the experienced Lafayette wrongful death attorneys at Broussard, David & Moroux to assist you through the claims process to get the justice and compensation that you deserve.
In a Wrongful Death Claim, Compensation for the Following Injuries is Available
Loss of wages
Loss of financial support, including benefits and pension plans
Loss of expected future earnings
Loss of companionship, protection and consortium
Physical and emotional pain and suffering
Medical and burial expenses related to the death
In calculating damages, a judge or jury typically considers a variety of circumstances, including the deceased's character, such as how the individual typically spent his or her money while alive and whether the individual supported his family prior to his death. Recovery of damages may be reduced if a judge or jury finds that the individual did not contribute to the familial income prior to his or her death.
Our attorneys offer a complimentary consultation to all prospective clients. For questions, call Broussard, David & Moroux at 888-337-2323 (toll free) or 337-233-2323 (local) for a complimentary consultation. You can also contact us online for answers to your questions or to schedule your consultation with a wrongful death lawyer in Lafayette.