Premises Liability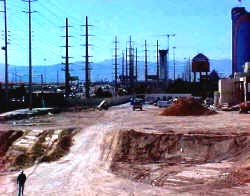 Property owners have a legal responsibility to ensure that their premises are reasonably safe for guests and visitors. Oftentimes, as our Lafayette premises liability lawyers are aware, visitors to another individual's property are injured due to either unreasonably safe conditions on the property. This can result either from the intentional acts of the property owner or the property owner's negligence in failing to maintain reasonably safe conditions on their property. Premises liability is an area of law that holds landowners legally responsible for a third party's injuries under certain circumstances and provides injured parties with a means of seeking redress for injuries sustained while on another person's property.
Broussard, David & Moroux represents people who are injured on both commercial and residential properties. Premises liability often hinges on the facts and circumstances of each case. An experienced premises liability attorney at our Lafayette firm can assist you in understanding your legal rights and asserting your legal claims.
Premises liability varies depending on the laws of your state. A landowner's liability typically depends on two factors:
The legal status of the injured person — Some courts look to the legal status of the person injured on the property. This analysis involves the consideration of whether the landowner consented to having the individual on his property or whether the individual was a trespasser. Courts generally impute legal responsibility to a landowner who consents to have third parties on his property. Landlords generally do not owe any duty to trespassers. Even so, whether an individual was a "trespasser" is a question of fact to be determined by the court, and a question into which an experienced attorney will be able to provide important insight.
The property's condition — To determine whether to hold a landowner liable, some courts instead look solely to the condition of the property and the activity on the property at the time of the accident. In these jurisdictions, a landowner has a duty to maintain property that is reasonably safe for visitors. This duty typically includes a duty to inspect property to ensure that no unreasonably dangerous conditions exist on the property and to promptly repair dangerous conditions on the property. Courts often consider whether the landowner had notice of the hazardous condition or whether the hazard was foreseeable to the landowner.
Premises liability can arise in both the commercial and residential context. Common claims against landowners include:
Slip and fall
Parking lot injury
Foreseeable criminal acts of third parties
Even business owners or other owners of commercial property owe a duty to keep reasonably safe conditions on their premises to visiting customers. Where business owners fail to maintain reasonably safe conditions—such as by failing to keep aisles clear of potential safety hazards, including spills or scattered merchandise—injured customers may have a claim against the business owner.
If you or a loved one were seriously injured on another person's commercial or residential property, our Lafayette premises liability attorneys can help you assert your legal rights. Broussard, David & Moroux has experience handling premises liability cases and will work to obtain compensation for your injuries, including medical expenses, lost wages, and pain and suffering.
We offer a complimentary consultation to all prospective clients. For questions, call Broussard, David & Moroux at 888-337-2323 (toll free) or 337-233-2323 (local). You can also contact us online for answers to your questions or to schedule your consultation with a premises liability lawyer in Lafayette.