Maritime - Admiralty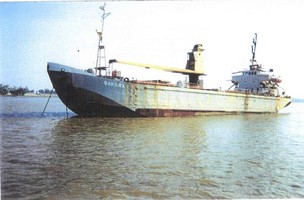 Operators of oilfield vessels are given broad authority over their employees that does not exist in land based employment. Injuries frequently occur when that authority is abused. Special laws provide for just compensation when offshore workers are injured due to negligent operations or unseaworthy vessels. Hiring an experienced Maritime Lawyer in Louisiana is essential to protecting your rights. For decades, the Lafayette Maritime Lawyers at Broussard, David & Moroux have successfully tried maritime cases. Blake R. David is the former Chair of the Louisiana Association for Justice Maritime Section (formerly Louisiana Trial Lawyers). Our lawyers teach other lawyers about maritime law at seminars all over the state (and even out of state). We understand that being a Maritime Lawyer in Lafayette means knowing the law and navigating injured seaman and other maritime workers through this specialized area of law.
Maritime law governs accidents that occur on the water or are connected with the water. This area of the law requires specialized knowledge and skill to successfully represent those people (including Jones Act seamen) who have maritime accidents. Federal law provides robust protection to maritime workers under the Jones Act and the Longshore and Harbor Workers' Compensation Act (LHWCA). These statutes govern the relationship between the employer and employees aboard United States vessels, and they provide remedies to certain maritime workers for injury and death. Recent developments in Maritime law provide for dual recovery if the injured individual is in a qualifying occupation. Whether this dual recovery is authorized, however, is determined by a fact-intensive inquiry into the nature of the employee's position. For the residents of Louisiana, Mississippi and Texas, this knowledge is extremely important because of the amount of people that work in the offshore oil business in these states. Working in these positions involves a significant degree of risk that often results in serious injury. In such cases, both justice and compensation is due.
As Maritime Attorneys in Lafayette, Broussard, David & Moroux has had success in representing people affiliated with the maritime and/or offshore business. The firm understands all of the complexities and issues that will surface during the litigation regarding which person works or uses a particular vessel or watercraft. The maritime law presents challenges and issues that are different from those that a lawyer usually encounters. The Lafayette Maritime Attorneys at Broussard, David & Moroux has the experience, knowledge and resources to obtain justice for persons injured offshore or on inland waters.
Examples of Maritime Claims Successfully Litigated by Broussard, David & Moroux Include
Seaman suffers severe back injury requiring surgery after being ordered to work on unseaworthy winch aboard vessel.
Foot and ankle crushed after slip and fall during equipment transfer in rough waters due to negligent crane operator and unseaworthy condition of boat deck.
Seaman suffers severe back injury with surgery after being forced to repetitively lift 100 lb. sacks of barite.
Wrongful death due to failure to timely rescue in waters on Outer Continental Shelf after fall from fixed platform in OCS (Texas).
Wrongful death of U.S. Customs inspector (asphyxiation) due to vessel captain and crew failure to warn of toxic closed cargo hold.
Damages resulting from toxic exposure after toxic chemical release stemming from petrochemical boat allision (collision) with bridge.
Seaman traversing unsafe stairway on a vessel.
Welder suffering Post Traumatic Stress Disorder (PTSD) after witnessing fall of co-worker/seaman.
Cases involving falls while boarding a vessel.
Basket transfer cases.
Drilling cases.
Rough waters cases.
Welder (rigger) cases.
Slip and fall cases.
Vessel allision (collision) cases (personal injury and property damage).
Unseaworthiness cases involving unseaworthy vessel deck, equipment, crew, improper training, etc.
Recreational boating claims.
Cases involving crane operator negligence.
Cases involving vessel passenger injuries (recreational, charter, work-related, etc.).
Gangplank cases.
Crane barge cases.
Cases where workers are injured on floating mats, rafts or fir mats.
Cases involving vessels running aground, striking other vessels, etc.