Nursing Home Abuse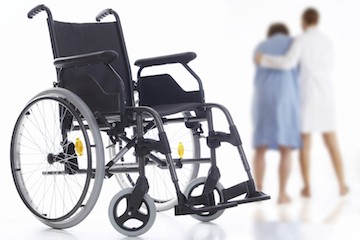 The decision to place an elderly family member into a nursing home is a very difficult one. Often, families choose to place a loved one in a nursing home because their loved one can no longer independently care for himself. Our Lafayette nursing home abuse lawyers strongly believe that nursing homes are designed to provide a safe and secure environment for the elderly, where families feel comfortable leaving their loved ones in a third party's care. Sadly, this vulnerable environment can also attract people who prey on senior citizens and lead to tragic abuse.
Broussard, David & Moroux is a personal injury law firm that represents victims of nursing home abuse and their families. If you believe that your loved one was abused in a nursing home, you should immediately report the abuse to authorities and seek legal advice. Based in the Lafayette area, the nursing home abuse attorneys at Broussard, David & Moroux are committed to holding negligent nursing homes and their staff members responsible for their actions.
Nursing home abuse can come in many forms, often concealed in the nursing home environment. Senior citizens may also be afraid to speak up about the abuse due to embarrassment or out of a fear of retaliation.
The following types of abuse commonly occur in the nursing home environment:
Neglect — Nursing homes have a duty to attend to the needs of residents in a timely manner. Nursing homes should be equipped with the staff and equipment necessary to meet each resident's needs. There is no excuse for neglect in a nursing home environment. Signs of neglect may only surface as injuries on the resident, including bed sores, broken bones from falls, dehydration or malnourishment, poor hygiene, illness from insanitary living conditions and side effects from inadequate medication, overmedication or the wrong medication.
Physical abuse — Physical abuse in a nursing home is especially troubling. Physical abuse occurs when a staff member or other individual intentionally harms a nursing home resident. Physical abuse can also encompass sexual abuse. Symptoms of physical abuse may appear in the forms of bruises, broken bones, head injury, or other unexplained trauma to the body.
Emotional abuse — Emotional abuse may be the hardest type of abuse to detect in a nursing home environment. However, emotional abuse can have a demoralizing effect on a senior citizen's health and welfare and lead to feelings of anxiety. Emotional abuse includes humiliation, constant shouting, threats, or blaming. Emotional abuse can also take a less aggressive form. For example, a nursing home staff member might isolate an individual for an extended period of time or ignore the individual's needs.
Financial abuse — In any environment, elderly people are especially vulnerable to financial abuse and fraud. Nursing homes attract people who prey on the elderly for financial gain. Often fraudulent actors concoct stories designed to elicit donations from the elderly by exploiting the senior citizen's fears or concerns about family.
Theories of tort law may be used to help you and your family recover compensation for your loved one's injury caused by a nursing home's abuse. Such theories include a general negligence claim, claims of negligent hiring and supervision against the nursing home and intentional tort claims. A skilled Lafayette nursing home abuse attorney can assist you and your family in developing strategies that will yield a maximum recovery for your loved one's injuries.
We offer a COMPLIMENTARY consultation to all prospective clients. For questions, call Broussard, David & Moroux at 888-337-2323 (toll free) or 337-233-2323 (local). You can also contact us online for answers to your questions or to schedule your consultation with a nursing home abuse lawyer in Lafayette.