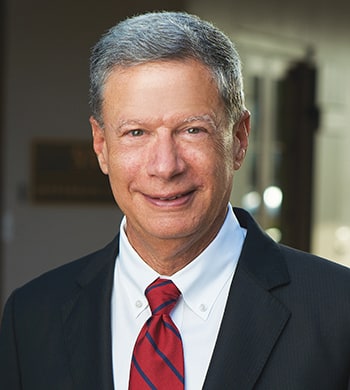 Richard C. Broussard
Partner
Download VCard
Phone: 337-233-2323
Fax: 337-233-2353
Toll Free: 888-337-2323

557 Jefferson St
Lafayette, Louisiana 70501
Richard C. Broussard was born in Lafayette, Louisiana on April 1, 1949 and received a Bachelor of Science degree in Economics in 1971 from the University of Southwest Louisiana (now the University of Louisiana at Lafayette) and a Juris Doctor in 1974 from Louisiana State University. He also served as an officer in the United States Air Force Reserves from 1971 - 1975. He is currently a partner in the firm of Broussard, David & Moroux.
Since his admission to the Louisiana Bar in 1974, Mr. Broussard has been involved in personal injury and wrongful death litigation with emphasis on offshore/maritime, aviation, products liability, industrial and automobile accident claims. His areas of practice include: Products Liability Law, Maritime Personal Injury Law, Aviation Litigation, and General Personal Injury Law. Mr. Broussard is an "AV" rated attorney by Martindale-Hubbell (highest rating possible). Mr. Broussard was board certified by the National Board of Trial Advocacy in Civil Trial Advocacy.
In 2007, 2008 and 2009, Mr. Broussard was selected by a statewide poll of attorneys as one of "The Top 50" Lawyers in the State of Louisiana (the list includes lawyers from all areas of practice). Additionally, his peers selected Mr. Broussard as one of the state's very best personal injury attorneys every year since the inception of the Super Lawyers rating system. 2007 through 2015 Louisiana Super Lawyers.
Mr. Broussard was chosen by the Louisiana State Bar Association to receive its prestigious Lifetime Achievement Award (2004). He is a member of the Lafayette Outreach for Civil Justice (founding co-chairperson), Lafayette Parish Bar Association, having served as President in 1986-1987 as well as the Louisiana State Bar Association having served as a member of the House of Delegates in 1980-1981 and the Board of Governors, from 1993-1995 and the Louisiana Association for Justice serving on the Board of Governors from 1983-1986 and on the Executive Committee from 1996-1997. He also holds memberships in the American Association for Justice, Lawyer-Pilots Bar Association, American Inn of Court (Secretary-Treasurer, Acadiana Inn, 1989-1991), the Million Dollar Advocates Forum and listed in the 2006 Martindale-Hubbell Bar Registry of Preeminent Attorneys.
Mr. Broussard was certified in Civil Trial Advocacy by the National Board of Trial Advocacy. He is current Chairman of the Aviation Section for the Louisiana Association for Justice.He also is past chairman of the Lafayette Airport Commission, a past member of the Louisiana Intrastate Air Carrier Board, as well as being an Airline Transport rated pilot. He also served on a volunteer basis as Magistrate Judge, City of Youngsville from 1981 to 2002.
Mr. Broussard is married to Kathy Broussard. They have three children and six grandchildren.
Education
J.D., Louisiana State University, 1974
B.S., Economics, University of Southwest Louisiana, 1971
Jurisdictions Admitted to Practice Louisiana, 1974

Professional & Bar Association Memberships
Lafayette Outreach for Civil Justice
Founding co-chairperson
Lafayette Parish Bar Association
President, 1986-1987
Louisiana State Bar Association
House of Delegates, 1980-1981
Board of Governors, 1993-1995
Louisiana Association for Justice
Board of Governors, 1983-1986
Executive Committee, 1996-1997
American Association for Justice
Lawyer-Pilots Bar Association
American Inn of Court
Secretary-Treasurer, Acadiana Inn, 1989-1991
Million Dollar Advocates Forum
National Board of Trial Advocacy
Certified in Civil Trial Advocacy