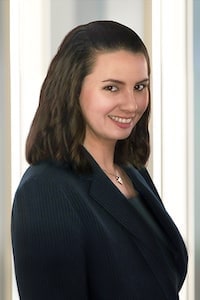 Melissa Mabry
Associate
Download VCard
Phone: 337-233-2323
Fax: 337-233-2353
Toll Free: 888-337-2323

557 Jefferson St
P.O. Box 3524
Lafayette, Louisiana 70501
Melissa Mabry is an attorney whose practice focuses on document review related to coastal erosion litigation.
Melissa graduated from the University of New Orleans in 2009 with a degree in Business Administration. She also received an MBA from UNO (2011). After wanting more out of life and her education, Melissa attended law school at Loyola University of New Orleans (2017). During her time in the evening program, Melissa worked while attending school argued on to the Trial Advocacy program and was the president for two years of the Evening Law Student Association. Melissa was admitted to the Louisiana State Bar in October of 2017.
Melissa is originally from and remains in the New Orleans Metro area. She is married and in her free time enjoys cooking, spend time with her husband Patrick, and trying to be the best person she can be.